Sian Berry has vowed to deprioritise the policing of cannabis if elected London mayor, including an immediate end to officers using the drug as sole grounds for stop and searches.
After decades of outright prohibition, the decision to redivert police attention away from small-scale cannabis offenders was first announced in County Durham in 2015 with the aim of freeing up officers' time and refocusing scant resources on organised crime. As evidenced by a sustained drop in recorded possession offences of the country's most popular illicit drug, they are far from the only force to do so.
It is one of several of the Green Party candidate's manifesto pledges shared with The Independent, aimed at diverting drug users away from the criminal justice system and creating "a real public health approach to drug use in the capital", where drug-related deaths are at the highest level in two decades.
Ms Berry also pledged to create access to free drug safety testing, to consider expert advice on whether to open a safe consumption facility, and to provide treatment centred around medical-grade heroin (diamorphine) prescriptions for the most entrenched and at-risk users – currently offered in Glasgow and Middlesbrough.
The Green Party co-leader, who is currently third in the polls, suggested that addressing issues around the enforcement of cannabis laws "will fix the heart of a lot of the disproportionality of policing".
"The experience of young black men on the streets of London is they are constantly suspected of drug offences when in actual fact they're even less likely to be taking drugs than white young men. It's just utterly disproportionate," Ms Berry told The Independent.
City Hall figures show black people are almost four times more likely to be stopped and searched on the capital's street than white people. Meanwhile, a poll commissioned by The Evening Standard in 2019 placed public support for legalising recreational cannabis at 63 per cent in London.
Ms Berry, who sits on the London Assembly's Police and Crime Committee, accused the Metropolitan Police of appearing to "push back" on criticism over instances where the smell of cannabis had been used as the sole grounds for searches, which is against police guidelines.
She alleged that the force seemed "genuinely complacent" in its written reply to a recent warning from the police watchdog not to do so, by "essentially claiming [the problem is] to do with the recording of the grounds, not what's happening on the ground".
Scotland Yard told The Independent it has "unconditionally accepted" the Independent Office for Police Conduct's (IOPC) recommendations and is "fully committed to delivering them, adding it is "committed to ensuring our use of stop and search is fair and effective in protecting Londoners".
Asked why she believed there had not been tougher enforcement of the guideline under Sadiq Khan's mayorship, Ms Berry said: "I think it's complacency, and it's resistance on the part of the police to recognise there are systemic problems that create disproportionality. They often try and dismiss that and say it's 'bad apples', bad recording, and so it is about looking at it properly."
In November, Mr Khan announced plans for "community scrutiny" of police tactics including stop and search, use of force and Tasers as part of action to "improve black Londoners' trust and confidence in our police service". In response, Met Commissioner Dame Cressida Dick acknowledged the force "is not free of discrimination, racism or bias".
And a mayoral spokesperson told The Independent that Mr Khan "believes the time is right for society to have an evidence-based conversation about cannabis — about the law, how it is enforced, and how we help those struggling with addiction".
"He will always support the police to enforce the law as it stands, but all Londoners will benefit if we can start a conversation that leads to a reduction in violent crime," the spokesperson said.
UK news in pictures

Show all 50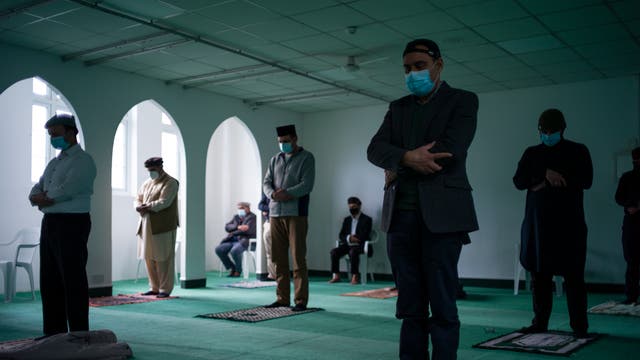 Ms Berry added: "As mayor you have this job of leadership. You also have a job as the effective Police and Crime Commissioner for London to hold the Met to account. And it's about driving it home to the police that they actually have to take this on board and take action. And at the moment the signs are that they're pushing back on the IOPC's findings, and that is wrong.
"So that is my pledge, basically. And I think fixing that will fix the heart of a lot of the disproportionality of policing. That is what we're hearing from communities."
Met Commander Jane Connors said Scotland Yard "fully supports cannabis alone being an insufficient reason for conducting a stop and search", having "created and implemented into policy" that the smell of the drug alone would be deemed insufficient grounds for stop and searches back in 2013.
"In 2016, the College of Policing recognised our good practice and adopted and integrated the MPS approach into the national Authorised Professional Practice (APP) for stop and search. Officers build reasonable grounds which include the individual's actions and behaviour," Commander Connors said.
Describing stop and search as a "crucial and legitimate power that protects Londoners and keeps our streets safe by detecting offenders, preventing crime and removing drugs and dangerous weapons from our streets", she added: "It is one of many tactics officers use to bear down on our top priority: violent crime.
"We know the emotional impact this tactic can have on some individuals and we understand how absolutely crucial it is that this tactic is carried out professionally and with respect. Ultimately, our job is to keep Londoners safe – and stop and search enables us to do that."
Scotland Yard added that "outcome rates for drugs searches, where in those cases there was an arrest, seizure, penalty notice etc, are broadly the same regardless of ethnicity" – at 24 per cent for black people, 25 per cent for white people, and 24 per cent for Asian people.
The exact extent to which these outcomes matched the grounds given for searches is unclear, but the Met said its figures showed 19 per cent of black people stopped on suspicion of drugs offences faced outcomes related to anti-social behaviour – encompassing drugs, fireworks and criminal damage. This rose to 20 per cent for white people.
As with several of Ms Berry's key drugs policies, such as heroin-assisted treatment and schemes to divert drug users away from the criminal justice system, the deprioritisation of cannabis policing has already progressed in some parts of the country under – or in spite of – a Tory government which has tended to oppose wider drug law reforms.
With official figures showing a fall of 75 per cent in the number of cannabis possession offences recorded in the decade to 2019, Lib Dem former health minister Norman Lamb described the shift in some forces' priorities to The Times as "a de facto drift towards decriminalisation but without any debate, without any role of government, without national oversight", as a result of forces and regional police leaders "exercising judgment when faced with almost impossible restrictions on resources".
While the Green Party calls for more radical moves at a national level, including replacing prohibition with a legalised and regulated system of drug control, Ms Berry said she believes her policy proposals ahead of the 6 May election are "just on the edge" of the mayoral remit.
"You've got the scope as mayor to go and negotiate the kind of spaces needed for these harm reduction things to happen," Ms Berry said. "Where there's clear health policies – things like safe consumption rooms, heroin prescribing – those are areas where people understand this is very closely related to health, preventing harm, preventing deaths, and we can create some space for that."
Asked how she would make the funding case for new interventions in a post-coronavirus landscape, Ms Berry said: "It's about investment in people. What you'll find, I think, as we go through the recovery phase is the current government's bias is going to be towards infrastructure, shiny things – moonshots, big projects.
She added: "I think people are starting to realise that investing in communities, investing in people, investing in wellbeing, security for people's lives and dealing with problems like this is the right thing [to do], so we'll be making that argument."
The latest Redfield & Wilton polling places Ms Berry in third place in the London mayoral race, with nine per cent of the vote.
This is 40 points behind Mr Khan and 19 points behind Tory candidate Shaun Bailey, a former youth worker and Downing Street crime adviser whose suggestions that large firms should be obligated to drug test staff and that families living in temporary accommodation should be able to save up for a housing deposit have attracted criticism.
"I won the most second preferences last time," said Ms Berry, referring to City Hall's supplementary voting system. "If enough people realised it's a fair voting system and they can put their first preference first and their second preference second as an insurance, that would be great."
But with the government having banned door-to-door campaigning and leafleting due to the pandemic amid fears the ballot could be delayed by restrictions at the last minute, Ms Berry said: "The right time to make the decision on cancelling the elections is now, and if I were the government I'd delay until the summer to give the councils breathing space.
"But be certain that you're going to do it in the summer and be clear that you're going to make rules that are a level playing field for all the parties … These are the fundamental principles of our society. They're not something you can go 'oh, don't worry about the unfair election, the coronavirus is more important than that'. Democracy is everything in the end."