5 Easy Weed Edibles Snack Recipes
Enjoy 5 Easy Weed Edibles Snack Recipes below for quick and yummy treats.
When it comes to wanting weed snacks fast, all we really want is something simpe and tasty right?
I mean, sometimes I feel like sporting my sexy Cannadish apron and cooking up a Cannabis storm, but mostly? I just want it easy.
How Do I Cook With Weed?
You do need a little prep-work here, and before you start sighing – trust me, when you master a few tricks in your Canna-Kitchen, you can make anything you want – and FAST!
If you want to start cooking with weed and create easy weed edibles recipes, you need a few things to get started, and then you're good to go.
Proper Cooking and Baking Utensils
Cutting Board
Apron ( because it's fun and cool!)
Molds like gummy molds and butter molds.
Sharp Knife
Grinder
Good working oven with proper temperatures and elements
Obviously, your weed!
Lots of space to sprawl out and create
Some great Marijuana-mood music
What Does Decarbing My Cannabis Do?
If you're baking edibles with raw cannabis, there's one very important step in the preparation process.
If not done correctly, this will almost certainly lead to failure. That process is called decarboxylation (decarb weed).
In its raw state, cannabis won't provide the psychoactive effects we're after.
However, once you decarb weed, you ensure that the all-important cannabinoids like THC and CBD become activated and available.
When done correctly, the result is more potent edibles and a better bang for your buck with little waste.
Decarb is essentially the conversion of THCa into THC or CBDa into CBD. Without decarbing your weed, THCa and CBDa will not fit into the endocannabinoid receptor sites in your body.
Meaning? It will inhibit the effects of cannabis that we're after.
How To Decarb Your Weed
5 Easy Weed Edibles Recipes
1. Weed Onion Rings
For this crunchy and satisfying edibles snack, you'll need to make Cannabis Milk.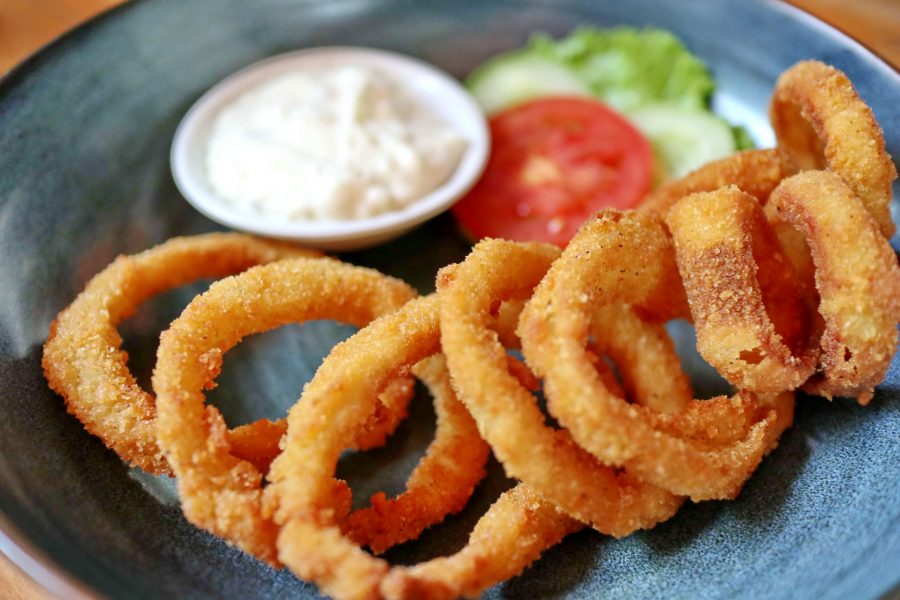 Servings: 4 people
Author: Steph Van De Ven
Cost: 20
Ingredients
1

Large

Onion

Cut into slices for rings

1/4

cup

All purpose Flour

1

tsp

Himalayan Salt

1

tsp

Baking Powder

1

Egg

3/4

cup

Bread Crumbs

1

Quart

Oil

(Vegetable Oil works best)
Instructions
Heat the oil in a deep-fryer to 365 degrees F (185 degrees C).

Separate the onion slices into rings, and set aside. In a small bowl, stir together the flour, baking powder and salt.

Dip each of the onion slices into the flour mixture until they are all coated; set aside.

Whisk the egg and cannabis milk into the flour mixture using a fork.

Dip the already floured onion rings into the batter to coat, then place on a wire rack to drain

Sprinkle the bread crumbs on a plate. Put the onion rings one at a time into the crumbs, and scoop the crumbs up over the ring to coat and pat them on hard so it sticks.

Deep fry the rings a few at a time for 2 to 3 minutes, or until golden brown. Remove to plate lined with paper towel. (this helps remove any left over grease from the oil)

If you feel like dipping, grab your favorite dip like Ranch, Marinara, or something spicy!
Four More Easy Weed Edibles Snack Recipes
2. Cannabis-Infused Popcorn
3. Cannabis Salsa For Nachos
4. Cannabis Cheetos
5. Cannabis Churros
We hope you enjoyed these 5 Easy Weed Edibles Snack Recipes, and would love to read your comments below!
You can always join us on Instagram and share your yummy Cannabis cooking pics with us there.